Pilgram Icon and Silver Rose Programs
Pilgrim Icon
Every few years, the Knights of Columbus selects an icon of a saint whose patronage is particularly inspiring to Knights and their communities. Each jurisdiction receives one or several of these icons which travel from council to council and serve as the centerpieces for prayer services in parishes throughout the Order. More than 174,800 council and parish prayer services with some 22 million participants have been held since the first traveling pilgrim icon of Our Lady of Guadalupe in 1979. For Pilgrim Icon Program resources, visit www.kofc.org/pilgrimicon.
Silver Rose
Each year, from early March through mid-December, Silver Roses are stewarded by Knights of Columbus councils along routes from Canada to Mexico. Every stop the Silver Rose makes throughout the pilgrimage is a rosary-centered occasion for Knights, parishioners and community members to pray for respect for life, for the spiritual renewal of each nation, and for the advancement of the message of Our Lady of Guadalupe.
St. Joseph Icon 2022-2023
Spread devotion to St. Joseph and pray for the courage to stand up and carry out our mission of protecting, defending, and raising future generations.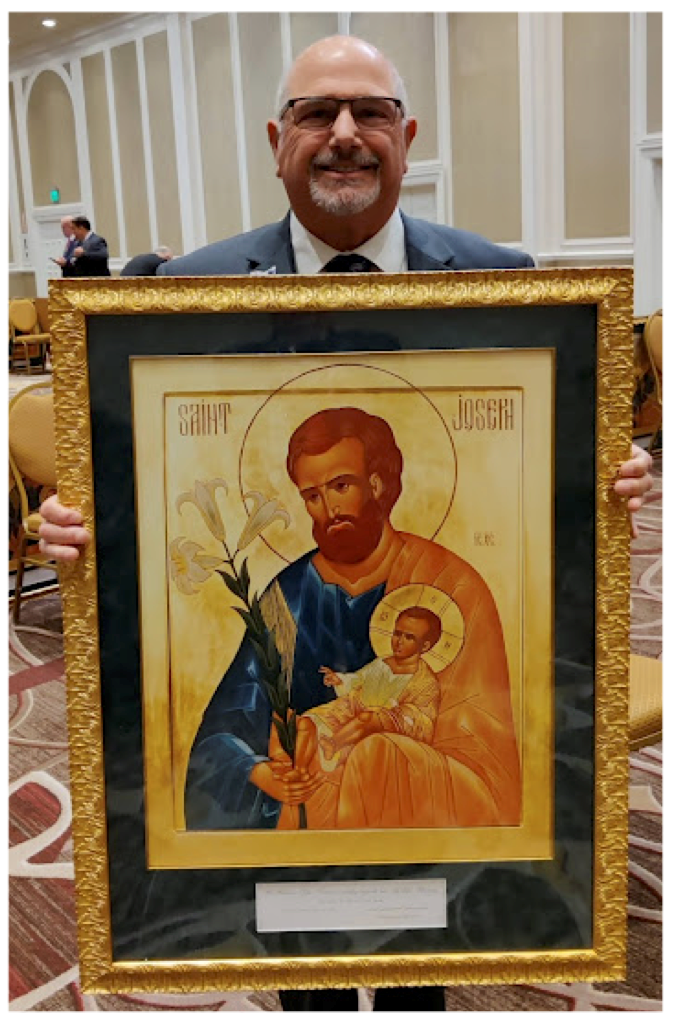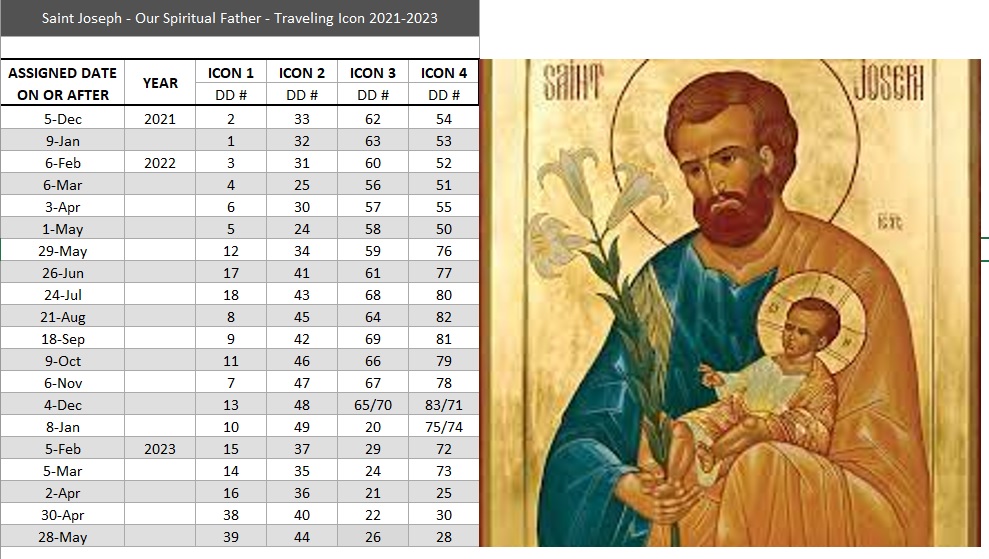 Share the message of Our Lady of Guadalupe and promote respect for life by participating in this meaningful pilgrimage. The Silver Rose program demonstrates the unity between Knights of Columbus in Canada, the United States and Mexico, through a series of prayer services promoting the dignity of all human life and honoring Our Lady.
#10723 – Horizontal Poster
#9754 – Our Lady of Guadalupe Pledge Cards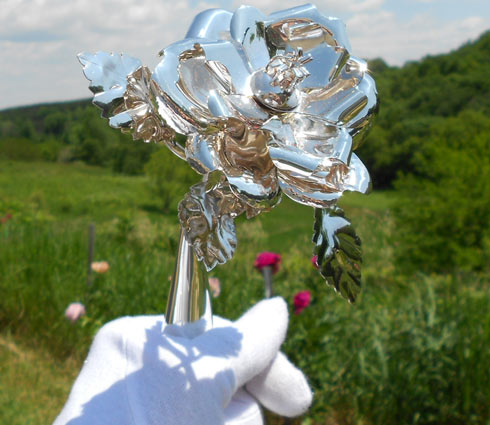 Silver Rose Schedule 2023
UPDATED: 3/13/2023
The Silver Rose is scheduled to be in Ohio from June 25 through July 22, 2023.  The Silver Rose is available on a first come, first served basis scheduled through your District Deputy and District Deputy Coordinators.  For councils interested in hosting the Silver Rose, please contact your District Deputy to make arrangements.  Below is the tentative schedule.
Archdiocese of Cincinnati (June 26-June 29)
| | | | |
| --- | --- | --- | --- |
| Date | Diocese | Tour Day | Viewing Location |
| Sunday, June 25 | | | Transfer to Cincinnati |
| Monday, June 26 | Cincinnati | 2 | Elder Council 1195, St. Gertrude Church, 7PM |
| Tuesday, June 27 | Cincinnati | 3 | Father Brotzge Council 14665, Our Lady of the Rosary Parish, 7PM (Bilingual Prayer Service) |
| Wednesday, June 28 | Cincinnati | 4 | La Morenita de Guadalupe Council 16571, St. Mary Church 6PM Prayer Service |
| Thursday, June 29 | Cincinnati | 5 | Minster Council 2158, St. Augustine Church, 7PM |
Transfered from Kentucky to Cincinnati on June 25, 2023
Diocese of Toledo (July 1-July 4)
| | | | |
| --- | --- | --- | --- |
| Date | Diocese | Tour Day | Viewing Location |
| Friday, June 30 | | | Transfer to Toledo Diocese |
| Saturday, July 1 | Toledo | 7 | |
| Sunday, July 2 | Toledo | 8 | |
| Monday, July 3 | Toledo | 9 | |
| Tuesday, July 4 | Toledo | 10 | |
Diocese of Cleveland (July 6 - July 9)
Date
Diocese
Tour Day
Viewing Location
Wednesday, July 5
Transfer to Cleveland Diocese
Thursday, July 6
Cleveland
12

District 26

, St Mary's of Chardon Council # 15942 Contact

: Teran Taggart 216-509-2087

Friday, July 7
Cleveland
13
District 31, SS Cosmas and Damian Our Lady of Guadalupe #11831
Saturday, July 8
Cleveland
14

District 26

, Lafayette Council #3970 

Contact: Teran Taggart 216-509-2087

Sunday, July 9
Cleveland
15
Diocese of Youngstown (July 11-July 14)
| | | | |
| --- | --- | --- | --- |
| Date | Diocese | Tour Day | Viewing Location |
| Monday, July 10 | | | Transfer to Youngstown Diocese |
| Tuesday, July 11 | Youngstown | 17 | |
| Wedesday, July 12 | Youngstown | 18 | |
| Thursday, July 13 | Youngstown | 19 | |
| Friday, July 14 | Youngstown | 20 | |
Diocese of Columbus (July 16-July 18)
Date
Diocese
Tour Day
Viewing Location
Saturday, July 15
Transfer to Columbus Diocese
Sunday, July 16
Columbus
22
Monday, July 17
Columbus
23
Perpetual Help Council #4603, Grove City, POC: Ken Walker

614-989-3724

Tuesday, July 18
Columbus
24
District 42, Delaware Council #1056 Contact: Doug Costello 740-965-6206
Diocese of Steubenville (July 20-July 23)
Date
Diocese
Tour Day
Viewing Location
Wednesday, July 19
Transfer to Steubenville Diocese
Thursday, July 20
Steubenville
26
Friday, July 21
Steubenville
27
Saturday, July 22
Steubenville
28
Bellaire Council #1246
Sunday, July 23 – Transfer from Ohio State Council to West Virgina State Council