Football Crazr Sweepstakes
Sweepstakes Fundraiser
Proceeds benefit K of C Programs
The Football Sweepstakes involves the last 10 weeks of games played by the NFL this season – games that will be played between late October through December/January. Donation is $20.00 per ticket.
At least $2,500 in prizes will be awarded each week or at least $25,000 over the contest period.
The 23 winners are determined by ticket holders with the four teams that score the most – or the least – number of points in that given week of games.
The scores from the previous week's games are used for teams that are not scheduled to play on any given week. A winners' list will be posted on www.fundcrazr.com and www.kofcohio.org – Password is going to your ticket number.
Tickets are due to PSD Gary Eckstein by October 31st.  Tickets will be accepted up till January 1st but will not be retroactive.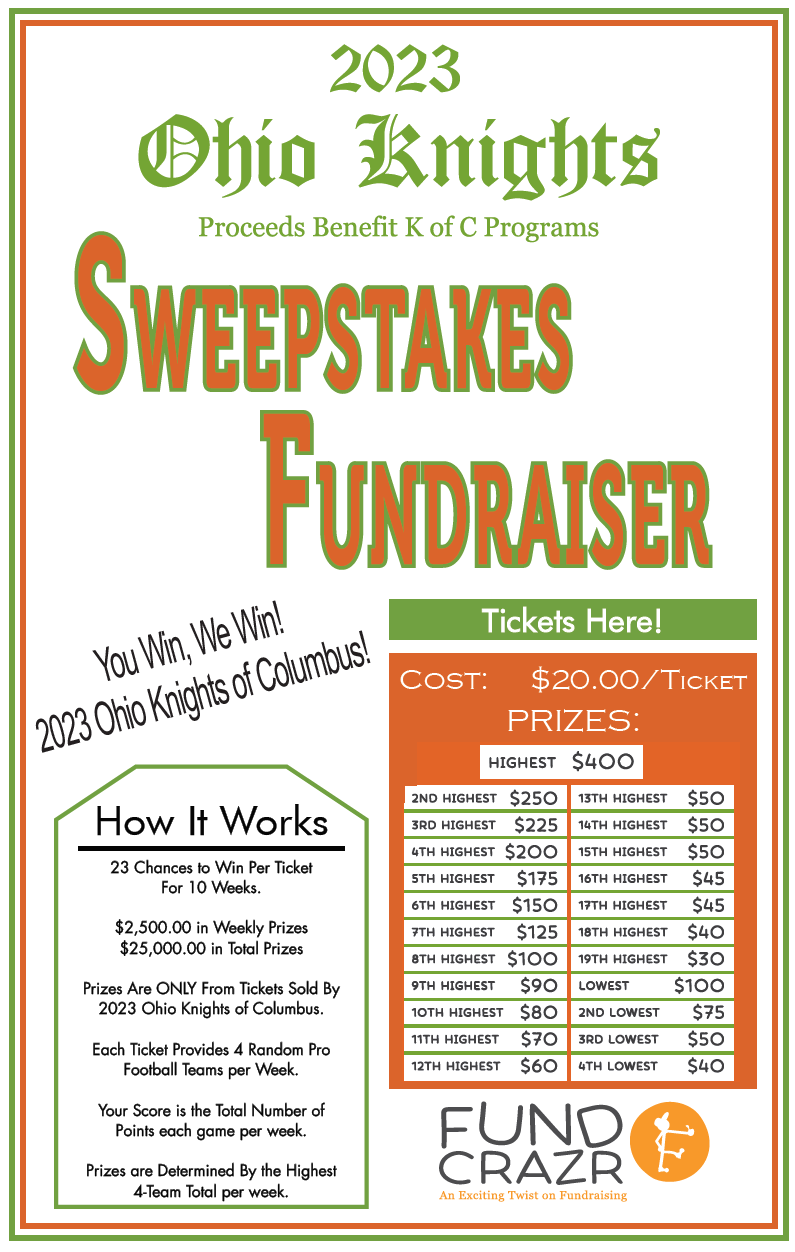 The "FOOTBALL FUND CRAZR SWEEPSTAKES" program began in 2003 to assist councils in fund raising. This program covers the last 10 weeks of pro football games played each NFL season. Winners are determined by ticket holders with the four teams that score the most – or the least – number of points in that given week of games.
Depending on the percentage of your quota of tickets sold, along with the State Council reaching their percentage of tickets sold quota, your council will receive a full or partial credit toward your State Per Capita tax; in addition of receiving at least a rebate of $5.50 for each ticket sold. The more tickets sold – the greater the rebate and per capita credit!
The Ohio State Council needs your help by selling one or more of your quotas of the Football Sweepstake tickets this season. This is a 10-week program with over $25,000 in prizes being awarded to over 230 winners – ranging from $40.00 to $400.00 weekly. The cost for each ticket is $20.00 and that equates to only $2.00 per week. Winners will be notified and paid automatically each week by the Ohio State Council.
23 Chances to Win Per Ticket For 10 Weeks

$2,500.00 in Weekly Prizes $25,000 in Total Prizes
Prizes Are ONLY From Tickets Sold By 2022 Football Sweepstakes
Each Ticket Provides 4 Random Pro Football Teams per Week
Your Score is the Total Number of Points each game per week

Prizes are Determined By the Highest/Lowest 4-Team Total per week
Week #1
Week #2
Week #3
Week #4
Week #5
Week #6
Week #7
Week #8
Week #9
Week #10
Highest: $400
2nd highest: $250
3rd highest: $225
4th highest: $200
5th highest: $175
6th highest: $150
7th highest: $125
8th highest: $100
9th highest: $90
10th highest: $80
11th highest: $70
12th highest: $60
13th highest: $50
14th highest: $50
15th highest: $50
16th highest: $45
17th highest: $45
18th highest: $40
19th highest: $30
Lowest: $100
2nd lowest: $75
3rd lowest: $50
4th lowest: $40
Please make your Council checks payable to the "

OHIO STATE COUNCIL, K OF C FUNDRAISING

" and send to:
Mr. Gary Eckstein, PSD
State Fundraising Chairman
P.O. Box 535
Grove City, OH 43123-0535
If there are any questions or concerns, please contact Gary at 614-679-4238.